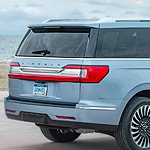 The Lincoln Navigator is a large and luxurious SUV with an energetic engine and outstanding fuel economy. At Bob-Boyd Lincoln, Inc., we are confident that you will appreciate what the Navigator offers like we do.
You will feel more confident while driving a Lincoln Navigator because of its five standard drive modes, including Slippery, Excite, Conserve, Deep Conditions and Normal. Slow Climb is an available drive mode that is perfect for new adventures. This feature accommodates changing road conditions. You can switch between modes by turning a knob, which will make adjustments based on calculated settings.
Hill Descent Control is available for the Lincoln Navigator. This feature changes the braking pressure based on the amount of traction required. It lets you travel down steep trails with ease by controlling the pressure as you descend at a safe speed. Hill Descent Control can significantly enhance your off-road experiences.