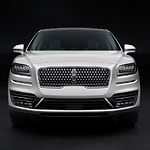 The Lincoln Nautilus is a prime example of a luxury SUV. It's a two-row model that has so much to appreciate, including a refined style, advanced technology, and great performance.
There are two engine options to consider getting. You could drive a model with a turbocharger 2.0-liter engine, or you could have one with a twin-turbocharged V6 that has a displacement of 2.7 liters. The turbo 2.0-liter engine can generate 250 horsepower, while the twin-turbo increases horsepower all the way up to 335. Either way, you'll be able to have a fun time driving around Columbus.
Our team at Bob-Boyd Lincoln, Inc. would also like to point out a few other components that can positively affect performance. The Lincoln Nautilus uses an eight-speed automatic transmission, so it feels smooth and responsive. Plus, it's available with all-wheel drive. The intelligent AWD system uses sensors to determine when to send power to the front or rear wheels.