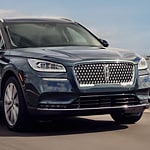 The Lincoln Corsair is a high-performance coupe that will surprise you with its power and performance. The exterior of the car is sleek and modern, while the interior has been designed to be futuristic and stylish. There are many features available on this vehicle, which we will discuss in detail below.
1) Advanced Driver Assistance System: This system helps drivers stay safe by monitoring their speed, steering input, braking input, throttle input, or other factors to make sure they are driving safely at all times.

2) Adaptive Cruise Control: If you find yourself getting tired while driving on a highway for long periods of time then this feature can help reduce your fatigue by automatically maintaining a set distance from the cars ahead of you while adjusting to changing road conditions such as slowing down or speeding up depending on traffic.

3) Front and Rear Parking Sensors: With parking sensors, you can easily maneuver into even the tightest of spots while still being able to see around your vehicle.