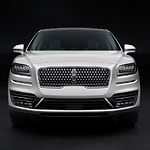 Overview
The Lincoln Nautilus is a stylish mid-size SUV that is equipped with a suspension system that provides a comfortable ride to the model's occupants. Capable of providing a soft driving experience, the Nautilus is competitive with much-more expensive models in its category. There are several ways in which the Nautilus performs excellently.
Engine Layouts
The new Lincoln Nautilus is available with two different engine layouts. The first engine layout, which is standard for the Nautilus lineup, is a turbocharged 2.0-liter four-cylinder engine. Customers can also select an optional turbocharged 2.7-liter V6 engine. The V6 engine in the Nautilus produces as much as 335 horsepower and 380 pound-feet of torque.
Drivetrain Options
The new Lincoln Nautilus lineup is available with both front-wheel drive and all-wheel drive models. Several of the all-wheel drive Nautilus models offer selectable driving modes for drivers to choose from as they are driving.