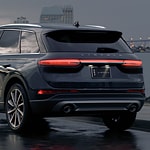 At Bob-Boyd Lincoln, Inc., we have the Lincoln Corsair! The Corsair has excellent performance features for a high-end luxury car. So if you want a well-designed Lincoln that delivers the performance you need, the Corsair is a great choice!
The shifter in the Lincoln Corsair is unique as they are piano keys. You just touch a key, and then your car switches gears. You'll know which key is active because it illuminates. There is also intelligent all-wheel drive available for exceptional handling.
There is an eight-speed transmission, so the Lincoln Corsair shifts smoothly as you drive in or outside the city. Cruise down the highway on your next road trip with the 2.0-liter or 2.3-liter turbocharged engines. The 2.3-liter engine also delivers 295 horsepower! There are also drive modes for exceptional handling and versatility!