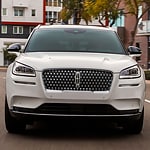 For a compact SUV that delivers remarkable performance in a wide range of driving conditions, you won't go wrong with the Lincoln Corsair. You can take a closer look at the Corsair and learn about all the available options at our showroom here in Columbus.
Depending on your preferences, your Corsair's powertrain can consist of a gasoline-powered or hybrid-fueled engine. If you choose the hybrid version, you should expect up to 265 horsepower while the two traditionally fueled turbocharged motors deliver 250 and 295 horsepower. An eight-speed transmission is standard.
The Corsair's hybrid powertrain comes with electric all-wheel drive capabilities for improved handling and greater peace of mind. All-wheel drive is also available on the gas-fueled versions as an added amenity. For even more luxury and convenience, check out the Lincoln Way app. This dedicated app offers roadside assistance, maintenance pick-up and drop-off services and more.