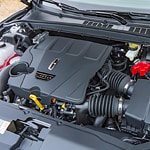 The Lincoln Continental is one of the most popular luxury cars at Bob-Boyd Lincoln, Inc. We probably don't have to explain to you the relationship of Lincoln to luxury, but what some drivers don't realize is that the Continental also sports considerable power and many performance features.
This car has a 400 horsepower twin-turbocharged V6 that makes it one of he most powerful luxury cars on the road today. It also has adaptive suspension that allows you to select one of three different modes. You can choose Sport, Normal, or Comfort depending on the driving conditions you expect to encounter. When you add in many other active performance features the Lincoln Continental is hard to top.
We want to invite you down to our dealership here in Columbus, OH where you can test drive a Lincoln Continental and see these features for yourself. Our friendly team is ready to help you choose that new car.